Ulta's Ultamate Points Reward Program
Including Ulta Mastercard program
Ulta.com
(disclaimer, Ulta may change their program at any time w/o notice, blog entry is from personal experience, period.
Disclaimer, I am

not

affiliated with Ulta, examples are from personal shopping experiences.)
Sign up for Ultamate rewards at Ulta's website (ulta.com) or in-store.
If you do the majority of your shopping online, sign up for Ebates

first, go though ebates every time you shop at Ulta so you may stack rebates on top of points earned at Ulta.
To attain maximum benefit from Ultamate Rewards wait until 2,000 points are accrued, as the monetary value escalates:
100 points have a value of

$3.00
250 points have a value of

$8.00
500 points have a value of

$17.50
750 points have a value of

$30.00
1000 points have a value of

$50.00
♥
2000 points have a value of
$125.00!!
Maximum value is at the 2000 points mark.
Points may be used in combination with other discounts and offers.

Earn points on salon services but cannot redeem points for salon service.

Reach Platinum by spending $450.

Earn points 25% faster ($1 spent = 1.25 points).
Once you hit the magic

♥

2000 ($125) use them all in one purchased for maximum value!
Extra birthday gift, Exclusive offers and double points in your birthday month.
Points are received for products
as well as salon services.
Members are rewarded with exclusive offers via email and/or mail.

The program is free!

When shopping at Ulta, give the sales clerk your rewards member ID or telephone number at checkout.
Online, be sure your Ultamate Rewards ID number shows on your "My Account" page at Ulta.com. (please find specifics below-mentioned)
Double check that you're logged into your rewards account before checking out and before the final payment step you will see the amount of points you will receive with your purchase!

One point is accrued for every dollar sent and Platinum members receive 1.25 points for every dollar spent.
To get to the magic 2000 points quicker check daily for special offers such as 3X, 5X points. ie:
5X Points - Ultra Chi Titanium
7/31/16 - 8/6/16
Earn 5X points on Ultra Chi Titanium purchases!
5X Points - bareMinerals
7/22/16 - 8/6/16
Earn 5X points on all bareMinerals purchases!
♥
♥
♥
10X points once yearly
♥
♥
♥
for Platinum Member Appreciation Day,
usually toward the end of August.
Maximize buying power by taking advantage of Beauty Breaks on Wednesdays as
♥generous
♥
gifts with purchase are offered .
1.
Sales associates may sign you up.

It's quick!
2.
Provide your full name, address, phone, email and birth date.
1.
Go to Ulta.com, Click "Sign in" on the top of the Ulta's home page. Click "Create an Account". Follow the steps to create an online account and join our Rewards program.
2.
Using the user name and password you just created, go to Log in to your account, and start shopping!
Rewards Program Membership Levels
:
1.
Once joined you are at level one, earning one point for every dollar spent, with the exception of special offers for 3x, 5x points etc.
2.
Once $450 is spent in a calendar year, you are upgraded to Platinum!
a.
More exclusive offers and events.
(Goodies, Goodies, Goodies)
b.
Bonus points (so you can buy more Goodies, Goodies, Goodies)
c.
Earn points 25 percent faster (1.25 points per dollar spent) (so you can buy more Goodies, Goodies, Goodies)
d.
Special birthday gift via email
e.
As long as you maintain your status your points do not expire!
f.
Your rewards card and number remain the same when you reach Platinum
g.
Platinum membership status remains through December 31 of the following year and you must re-qualify each year.
h.
Re-qualification is Jan 1 through December 31.
Program Enrollment Requirements:
3.
At least 13 years of age
i.
Every family member may have a unique membership, however, they may not be combined.
Receiving Credit For Purchases & Using Points
4.
Oops I forgot my card.
a.
No worries, you can enter your receipt online or give the sales clerk your phone number to look up your account.
i.
HACK:

Be careful that not more than one family member is using the same telephone number or your points, emails, offers, etc. may not be going into your account.
a.
Sign into your account, click my rewards and you may view your points!
b.
Each month you will receive an email statement, which includes your points and other account information.
c.
In-store your points balance will show at the bottom of your receipt.
a.
Points may be redeemed in-store or online at checkout.
b.
In store tell the associate how many points you wish to apply to your purchase, they usually ask in advance BUT
c.
HACK:
Caution
To receive maximum value do NOT use any points until you reach the magic 2000 ($125) and use them all at the same time or lose value.
i.
Example:

You have the magic 2000 points, checkout in-store and use $50 (1000 of the 2000 points) so you have 1000 points remaining? Yes.
Have $75 value remaining,
NO!
Instead of having $75 in value remaining you only have $50 in value (see chart below), thus, $25 is lost.
100 points have a value of

$3.00
250 points have a value of

$8.00
500 points have a value of

$17.50
750 points have a value of

$30.00
1000 points have a value of

$50.00
♥
2000 points have a value of
$125.00!! SWEET SPOT
Maximum value is at the 2000 points mark.
a.
Points may be used in conjunction with most special offers, discounts and coupons.
i.
Hack: While points may be stacked as above-mentioned ULTA specific coupons for ULTA products tend to have exceptions and these exceptions apparently change from one clerk to the next.
1.
Example:

Ulta Pump Up The Volume Kit, styling kits, etc. are kits from Ulta, with Ulta's brand on the front of the box, but contain items that are not Ulta brand, so, depending on the cashier you may not be allowed to use $5 off $10 ulta coupons.
2.
Example:

Most Ulta coupons are unuseable to purchase prestige brands.
3.
Coupon/sale stacking example:
a.
Ulta CHI Professional Blow Dryer $150 + $50 Silver carryon GWP On Sale $77.50
b.
Ulta free CHI Curling iron with $75 CHI purchase (one per customer)
c.
Wednesday Ulta beauty break free with $60 purchase valued @ $50
d.
Platinum member quarterly GWP (average value $225) with $125 purchase These offers vary, quarterly, this is a guestimate of frequency
f.
Free Shipping orders over $75 online
g.
Buy one for you, one for Christmas gift 77.50x2-20% $124.00
h.
You have 2000 points (the magic $125)
l.
Final price -0- shipped!
Loot = 2 Chi blow dryers irons
2 free Silver Chi Carryon
Beauty Break Goodie Bag worth $50
Platinum goodie bag worth $225
2 x $150- 77.50 e

(2x-72.50 off $150.00) Savings of:
8.
Stacking Points with Ultamate Mastercard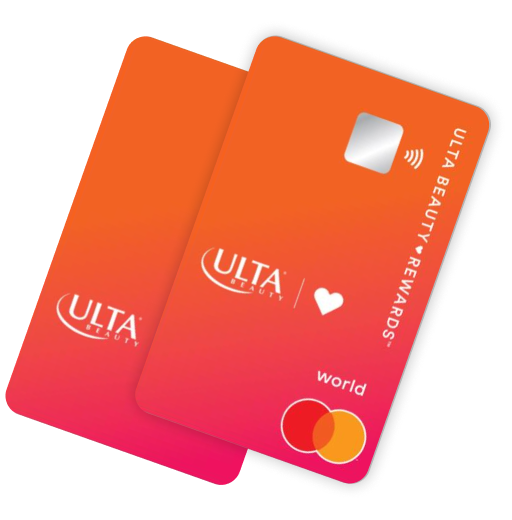 a.
Earn one extra point for every dollar spent at Ulta Beauty (DOUBLE BASE POINTS!)
b.
Earn one extra point for every three dollars spent outside Ulta Beauty
c.
Earn 500 extra points when you spend $500 in the first ninety days
e.
Annual percentage rate
i.
HACK:

The annual percentage rate is high!!!! This is a card I'd only use for the points and pay off before interest hits !
ii.
Point "Stacking" Example
1.
Purchase 4 $100 Pallets special for $50 each @ 10X points
2.
$200 X 10 points

= 2000 points
3.
Go through Ebates and earn 3% (6% on double days) to build that separate little nest egg
4.
Use Ulta CC and earn 200 points
5.
Platinum member earn additional .25 x 200 = 50 pts
a.
2000 points earns $125
b.
cc earned an additional 200 points
c.
Platinum earned an additional 50 points
d.
$200 spent, you receive merchandise ordered, 2000 points which is $125 to spend, banked an additional 250 points and made at least $6.00 add to your Ebates nest egg
e.
Thus $200 turns into $325 plus extra points plus ebates
a.
Points are not transferrable
a.
Points used to purchase an items which is later returned are banked back to your rewards account.
Examples are
(as of August 2016)