Historically used to ward off germs and evil, later used for aromatic smell and good luck gifts (history link below)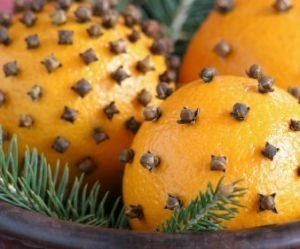 Ingredients:
One medium size orange, clementine, lemon or apple free of brusing
Box whole Cloves
Ground Cinnamon
Cord
Ribbon
Pomander will dry in approximately a month in pristine condition, however, those w/ blemishes shall rot. Cover entire surface with whole cloves (or make pattern if desired) leaving leaving app. 1/4 between cloves. Sprinkle cinnamon over fruit. Wrap cord around fruit and hang in dry location. Wait one month - six weeks to ensure fruit is totally dry. Tie ribbon around pomander to be displayed as decoration, stored in closet or for gift giving.
For historical perspective click below-referenced link