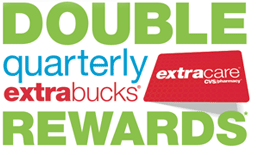 EARN DOUBLE ON EVERYDAY ITEMS
FROM 9/16/12 TO 12/15/12.*
You must sign up to receive this reward:
SOURCE

:
The Fine Print (Enlarged or your pleasure) : From CVS website:
" *Your quarterly ExtraBucks Rewards will double to 4% on all eligible over-the-counter items purchased from 09/16/12 (or date of sign up after 09/16/12) to 12/15/12. Quarterly ExtraBucks Rewards will be available on your store receipt, ExtraCare Coupon Center or CVS.com 01/01/13-02/14/13. This promotion does not apply to circular ExtraBucks Rewards. Excludes alcohol, gift cards, lottery, money orders, prescriptions, postage stamps, pre-paid cards, tobacco products or items reimbursed by a governmental program. Members who do not spend $12.50 in qualifying over-the-counter items purchases or who do not otherwise reach a minimum of $0.50 in ExtraBucks Rewards by 12/15/12 will not receive rewards and will not have earnings carried over."