Elder Rage, or Take My Father... Please! How To Survive Caring For Aging Parents
Author: Jacqueline Marcell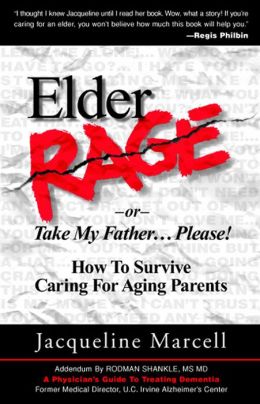 Fabulous Caregiver Book Review: Life Hacks For Caregivers



If you are a caregiver this book could SAVE YOUR LIFE! Helpful and Entertaining: Wonderful book for caregivers
Once I found time to read this wonderful book, couldn't put it down. Not only is it informative, it is well written and entertaining.
I've been a full time caregiver since 2000 + prior pt (assisted father with care of Mother since 1994 until his death in1999) . I am currently caring for Mother who survived 2 strokes (Max assist transfers) and also has multiple physical and psychological challenges.
I wish I had this book years ago as I know my marriage and every aspect of my personal life and health would not have suffered as severely. Like most caregivers, I had no idea who to handle the situation in the beginning and didn't expect for Mother's condition to worsen and require so much sacrifice from my husband and I.
I'm now in the midst of preparing paperwork for respite and adult daycare, neither of which I knew existed before reading this book.
Caregivers: Taking precious time from your busy schedule to read this book is worthwhile because YOU, caregiver are worthwhile.
Jacqueline, thanks for writing this awesome book, much love,
Laura